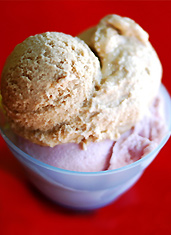 Winter doldrums have set in.
Snow is being shoveled. Boots are clomping through city slush. Hot chocolates are being discreetly spiked.
At least that's the case in the rest of the country. Here, it's ice cream weather.
And today we bring you some exciting ice cream–related news: you can now find an LA ice cream legend farther west than you've ever found it before.
Introducing
Scoops Westside
, now quietly open on Overland for all of your rich, creamy dessert needs.
Like the original Scoops that's tucked away in the shadow of the 101, this second outpost is not much to look at―it's located in a divey Westside strip mall, just down the street from Chego.
But you know what you're here for: unusual flavors like
Brown Brown Bread
(caramel ice cream with toasted Grape Nuts),
Yuzu Ume
(Japanese citrus and apricot) and
Pumpkin Eggnog
. (It's not spiked―yet.)
They'll have seven flavors at a time for now, and you can expect them to constantly change with the season. And on the off chance you do stop by during a patch of actual winter weather (hey, it could happen), they'll pour you some Intelligentsia coffee to warm you up.
Somehow we'll get through this harsh season together.