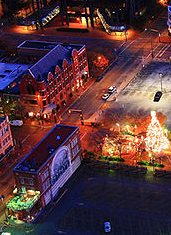 A casual evening driving through Highland Park, looking at holiday lights: nice. Quaint, even.
Well, except for the driving—so let's make that flying. And instead of just one neighborhood, let's make it five. And, okay, let's throw in a Cowboys Stadium fly-by...
Say hello to the
Holiday Lights Tour from Sky Helicopters
, a nighttime helicopter ride over the most Griswold-worthy homes in Dallas, taking reservations now.
Think of this as a holiday lights carriage ride, only 500 feet in the air. And without that horsey aroma.
You'll start by booking a flight for sometime after 6pm, any night of the week. Then, you'll grab your favorite aviatrix and head to the Garland Heliport, where you'll finalize your route before jumping into the two backseats of the chopper. Toss on some headsets, pour two glasses of eggnog, and you're on your way. (Note: it's BYO eggnog. And BYO spill-proof glasses.)
Then, you'll cruise over the same twinkling neighborhoods you'd expect (from the Park Cities to Farmers Branch) at heights of around 400 feet. You'll see everything from the lawn of Jerry Jones's neighbor (very ornament-friendly) to White Rock sailboats wrapped in blinking lights. Your grand finale: buzzing Cowboys Stadium, all while your pilot provides his holiday lights play-by-play.
He's like the John Madden of holiday lights.