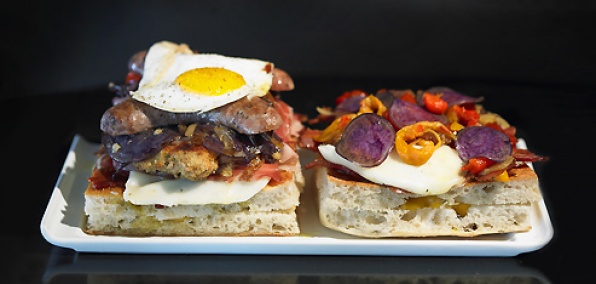 It's Friday.

Friday at the peak of holiday season...

Which means abundant parties and good amounts of holiday cheer.

So we scoured the city for a surefire remedy to nights of merry indulgence, and we unearthed something that we're not sure should see the light of day. But you be the judge...

Introducing The Hangover, a heaping, foot-tall, off-menu creation combining chicken parm, cured meats and cheese into a colossal sandwich, available now at Tony's Coal-Fired Pizza and Slice House.

Calling it a sandwich is like saying San Francisco has a few inclines—it's a chicken parm wedge and a charcuterie plate in between two grilled cheese sandwiches. And normally we couldn't endorse such a blunt instrument, but desperate times call for desperate measures.

When you get to Tony's, don't bother looking at the menu, the specials board, tea leaves or the pizza equivalent of tea leaves, because it won't be listed. Walk up, give a knowing glance and utter the word "Hangover."

Given that the bread is two rosemary focaccia cheese panini bookending slices of hot copa, crispy pancetta and a half-pound breaded chicken breast wrapped in mozzarella and prosciutto, topped with a sunny-side-up egg—taking a full bite is a feat in itself. But then the reward is a salty, greasy concoction that'll cure whatever ails you.

For extra flavor, you can order it Guido Style with hot Italian sausage and peppers, Soviet Style with housemade Russian dressing or Hong Kong Style topped with hot mustard.

But we've said too much already.