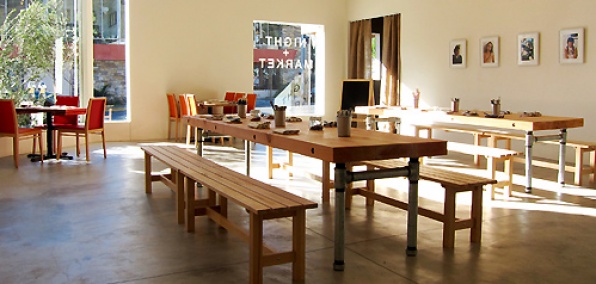 The amazing rock-and-roll history. The staggering rooftop views. The merciless mechanical bull.

Yes, the Sunset Strip has it all. Or so you thought, until you had an intense craving for some fried chicken wings, a Thai beer and some midget wrestling last week.

Here to help you with two of those three things: Night Market, a tiny hideaway of Thai street food in the heart of the Sunset Strip, now open.

They don't believe in much in the way of decoration here. But don't worry. When you've got the scent of grilled meats wafting in the air, you don't need much more than a couple of communal tables and a concrete floor. Plus, you'll have the chrome-plated sports cars out front to look at.

So next time you need to fuel up before a show at the Roxy—or your group just spilled out of Soho House in dire need of Grilled Pig's Collar and those aforementioned wings dipped in a spicy chili sauce—you'll pile into this spot located right next to Talesai. (In fact, you can think of it as a sidecar to Talesai; it's from the same owners.)

You'll also appreciate the place's evolved taste in art. The walls here are covered with illicit snaps of young women with that unmistakable look in their eyes.

That look that says: mmm, fried chicken wings.