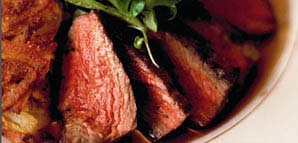 In a city of wildly differing landscapes, there are crucial things to know about each region.
Like where to get a stiff drink and some red meat when you're passing through. Finally, the Pacific Palisades has a long-overdue respectable option—
The Oak Room
.
Brought to you by
mayor-turned-restaurateur
Richard Riordan, The Oak Room feels refined (conservative) enough to impersonate a longstanding steakhouse-y classic...but casual (untrendy) enough to survive in such close proximity to the beach. At long last, the nearly dry Palisades seems less like a shrine to Prohibition. After a glass of California Cabernet at the bar—an island that halves the room—you'll want to enjoy your steak,
Duck Cassoulet
or obscenely large burger in the front, which boasts a livelier vibe and a view of the nicely tanned street traffic just outside.
But if you need to upgrade from just passing through to special occasion, stake out the communal table in the small, corner market room peddling local cheese and every bottle from the wine list. Once the restaurant is fully up to speed, the chef (who has markedtime at legends like Michael's and Water Grill) will use the intimate nook as a hub for epic tastings.
It's a welcome addition to a welcome addition.