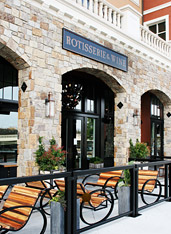 It seems simple: Wine Country is all about wine.
As it should be.
But eventually, reluctantly, you need some food with your wine. And that's where you want to mix things up.
Which brings us to the Napa Riverfront... In the span of a few months, everything from
Iron Chef
-caliber Japanese food to fare you'd find in a New England fish shack opened in the two-block stretch.
Here to represent the South:
Rotisserie & Wine
, the latest meat-and-three-driven haven for upscale Southern comfort fare to land west of the Mississippi, opening this week.
Set between Morimoto's spot and Fish Story, you'll know you've stumbled upon R&W when you see rocking chairs lined up along the patio. But instead of hickory, these are made with reclaimed oak from wine barrels—perhaps even the same barrels that aged the chardonnay you'll be drinking.
It's almost like heading into a familiar Southern eatery where the dinner plates are loaded with home-cooked yams, grits and collard greens, only there's a wall of wine at the ready. And chandeliers made with halved wine barrels hanging overhead. (If anything produces good lighting, it's pinot gris...)
There's a heavy slant towards spit-roasted chicken, porchetta and ribs from one of the two custom-built, namesake rotisseries. But if you're looking to really refine it all, go in for the
Duck Confit and Waffles with Cracklings
.
Wine and waffles, together at last...