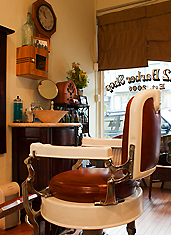 You've just barely recovered from yesterday...
And since there's more of that sort of indulgence in your future, you'll want to keep looking your best.
We say: tackle the treadmill later and start with your hair...
Welcome
1512 Barber Shop
, a two-chair throwback of a vintage barber shop offering straight-razor shaves and cuts by a third-generation master barber, now taking appointments.
Now, you might be wondering what a master barber is, exactly. It's a guy who's really good with scissors and blades because he put in the requisite blood, sweat and tears to perfect his craft (hopefully light on the blood). In this case, Sal—who's 100% Italian and looks like he could be the fifth Baldwin brother—learned from his father, who learned from his father back in Sicily.
Needless to say, you'll be in good hands if you want a traditional haircut (warning: he won't do mohawk/comb-overs). But if you're in need of a straight-razor shave, he is the only guy you'll want (his is the only three-steam, hot-lather shave with an old-school '30s blade in town). The entire experience feels like you've stepped into an authentic turn-of-the-century marble and wood barbershop, with enough room for two vintage chairs and a spectrum of razors.
As far as appointments go, you'll make yours online. And allow us to suggest taking the last one. Since Sal also so happens to be a whiskey distiller, he generally has a bottle on hand to share after his last cut.
You know, to take the edge off.