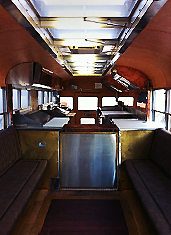 You're looking forward to turkey.
But in a few days, you'll be seeking out anything but that.
So we think a meatball sub out of a souped-up school bus-turned-restaurant sounds about right...
Introducing
Le Truc
, the city's first bustaurant to serve fine dining-grade food inside a converted '89 Ford Ward school bus, opening for lunch on Monday in the Wells Fargo parking lot on Brannan.
If you're envisioning pizza Friday in a yellow school bus, you'll be advised that there are some major departures. First, the bus is no longer yellow. Instead, you'll find a sleek, gunmetal gray vehicle cloaked in chrome. Second, your food—from the 
Tenderloin Beef Sandwich
to
Thai Red Curry Chili
—is carefully crafted to avoid any school cafeteria flashbacks.
You might've caught these guys in soft-opening mode at Off the Grid, but now, when you step inside, you'll discover four extra inches of headroom and skylights, so when you take a seat at one of the copper tables squeezed in next to the restaurant-equipped kitchen (there's enough seating for 12), you won't feel cramped.
In a few weeks, they'll start parking near a bar (hint: one serving a good selection of Belgian ales) and dishing out prix fixe dinners with courses as extravagant as sashimi or as hearty as chicken meatloaf.
Can't hurt to ask if you can get a ride home...