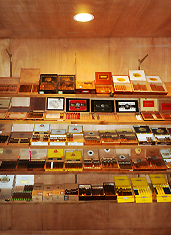 The holidays: fun, if occasionally stressful.
So, sometimes—usually around your cousin Ned's third eggnog—you need some escape.
Preferably somewhere with Cubans. Also: cigars.
In those moments, you'll head to
Sacred Cigars
, a hallowed new cigar lounge in Highland Park, open now for your puffing pleasure.
So the next time you need a break from Ned (his idea for a salad-yogurt hybrid called LeafGurt is almost starting to make sense), you'll make your way to Snider Plaza. Duck into a cozy storefront, where four leather chairs facing a 42-inch flat-screen await, and ask for Jose.
Consider Jose your new best friend. He's 70, hails from Cuba and has been hand-rolling cigars since the pre-Castro days. He'll guide you to the humidor room in back, which is covered in cedar. Grab a cigar from the boxes—we like the Graycliff, whose founder used to roll cigars for Fidel. Or if you want to support Jose, grab a hand-rolled one.
And because you're always prepared, you brought a bottle of scotch. Pour yourself a glass (be sure to offer Jose some). Then, when you have to go—around the time Ned starts orchestrating a live nativity scene with Grandma—you'll store your booze in a locker for next time.
Feel free to show off your smoke-ring-puffing skills.