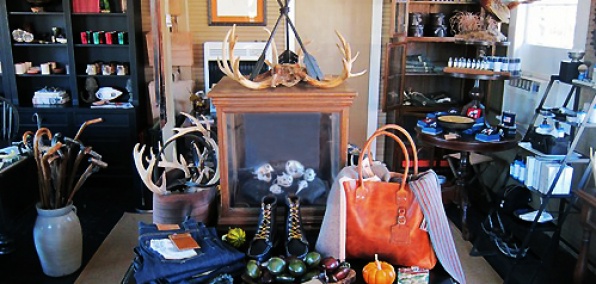 We know.

This '70s-and-sunny business can be distracting. Just yesterday you found yourself aimlessly wandering around in a bathing suit looking for a pool.

But stay focused... there's a cold, hard winter ahead.

Which means it's time to start arming yourself for the occasion.

Welcome to Oakleaf & Acorn, your new outpost for selvage denim, tobacco-leaf bow ties and horsehide belts from a Tennessee stream, now open in Braselton and taking orders online.

Think of this as the kind of place you might find Holden Caulfield and Ted Nugent catching up over a nip of bourbon and a fistful of jerky. So if and when you decide to make the quick hop out to Braselton, you'll be greeted by the aptly bearded owner, John, who'd be more than happy to offer you a cold beer or a glass of bourbon before showing you around a bit. It would only be right to accept this offer.

Then, and only then, will you begin the delicate process of sifting through a barrage of arcadian finery, from Sebago chukkas and Southern Proper bow ties to Raleigh Denim jeans and Billykirk utility pouches. But if a semi road trip isn't in the cards, you'll be happy to hear that everything in the store is also available online.

Oh, and before you ask, yes, you'll even be able to re-up your collection of porcelain-fired raccoon and beaver skulls while you're there.

Or maybe that's just the bourbon talking.