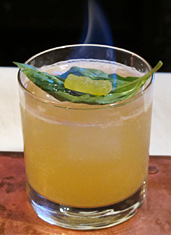 Halloween. Christmas. Great candy-consuming holidays, and here you are, almost smack-dab in the middle of them. If only you had an excuse for a discreet candy binge.
Well, you do. And it's in your cocktail.
Feast your eyes (and sic your sweet tooth) on
The
Burning Man Cocktail
, available now at Sova to bring both candy and fire to your evening tippling.
You've been here for a morning shot of caffeine, or even up to the quiet parlor of a bar for a glass of wine or rare beer. But now you'll want to head in later, when a stiff cocktail with a subtle hint of movie-theater snacks is in order. You'll ask for Steve, who starts out this drink's life with homemade Sour Patch Kids liqueur (otherwise known as cooking down the candy in grain alcohol). Gummy bears just didn't have the same citrusy top notes.
From there, he adds gin, St. Germain and a healthy pour of prosecco over ice, resulting in something far less sweet than you'd expect. We know: you sensed a coup de grâce coming, and you were right: before he puts the drink in front of you, he floats another Sour Patch Kid on a mint leaf, drops some more grain on it and lights it ablaze.
Consider it a sacrificial offering.