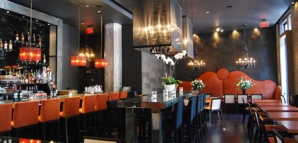 You're a firm believer that the best things in life are worth the wait.

By that measure, Chez Papa Resto—brought to you by Jocelyn Bulow and Marc Sempere (Chez Maman)—opening Monday after six months of delays, ought to impress.

From the moment you walk in, you'll see that the 50s Parisian lounge-swank interior looks nothing like its rustic Potrero Hillsibling, Chez Papa Bistrot. But that's not a bad thing: Pass the small lounge area and head to the bar, where you can settle in with the Fifth Street Zombie, a rum cocktail so potent that it has a two-drink limit (yes, Papa's paternal side kicks in). Or take a seat at the antique glass communal table, aglow under a pair of Murano chandeliers.

From there, Executive Chef David Bazirgan's (Elizabeth Daniel) menu will seem just right as it leans heavily towards shareable Provençal-style small plates like Labelle Farms Foie Gras and Seared DiverScallops. Some classics, though, like the Grass-Fed New York Steak with PommesFrites, you might want to keep for yourself.

Of course, it wouldn't feel very French without outdoor seating—and there's plenty here—but you might want to wait another two weeks for lunch and brunch service, or for warmer weather.

Which brings us to one more thing that's worth waiting for.