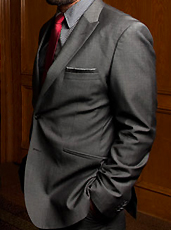 You've always been a fan of Austin.
Lone Star-soaked nights on West 6th Street. Floating the Guadalupe River in your mojito-stocked inner tube. Parties at the moon tower with Matthew McConaughey and Ricky Williams.
But today we've got a new reason for you to be a fan of Austin: clothes that Don Draper, JFK and anybody cool in a '60s-ish kind of way would wear.
Presenting
Kent Wang
, an Austin-based menswear line that pays homage to the Kennedy era in everything from button-downs to pocket squares, now available online.
First of all: these clothes may look a little familiar. You may have seen this guy's threads on a little soul outfit called the Dap-Kings (he proudly supplies the band's pocket squares, ties, tie clips and socks). Or you might not have.
But either way, here's what you'll get with Wang: everything to complement your shiny gray Don Draper-esque suit (everything except a French-speaking hot chick, anyway). 
To wit: silk ties handmade in Italy, slim-fitting button-downs (think Band of Outsiders, minus 50 years) and more than 80 different pocket squares, for those whose tastes run Wilbon-ian.
He's even got a few handmade cuff links with double-sided studs. Go with the black onyx ones.
Because black is the new black.