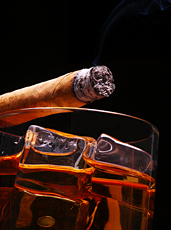 Almost Friday night.
You're ready for a rooftop bar, a strong cocktail and a fresh-rolled cigar.
But tonight, in the interest of time, let's combine the last two…
Presenting
Cigar Cocktails at Club 50
, a trio of liquid refreshments with the added bonus of a bold kick of stogie, now available at the Viceroy's 50th-floor lounge.
First step: get yourself to the hotel on Brickell on a weekend night (like tonight), take an elevator up a few floors (okay, half a hundred) and settle into a lime-green bar seat. 
Second step: look down at your city and get in touch with your need for a cocktail and a cigar.
Third step: turn to resident barkeep David Ortiz and ask for one of three new cocktails that contain recently-invented-at-his-home bitters—bitters made with 100-proof grain alcohol, caramel, brown sugar and two full, high-grade cigars, straight from the shop La Gloria Cubana in Little Havana.
There's the
Juanito Colón
(a daiquiri made with two dashes of the bitters), the
Hialeah Spiced Tiki Punch
(papaya, coconut, rum, two dashes of the bitters) and, our favorite, the
Calle Ocho Old-Fashioned
, mixed with a massive five dashes of the bitters.
After one of those, you might need a smoke…