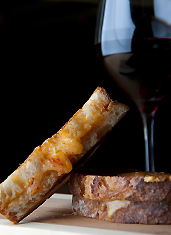 You had a pretty privileged childhood.
You were the only kid on the block with a pet unicorn. Your big wheel had a Hemi. Only the finest Kraft Singles available were sourced for your grilled cheese.
Ah, the memories.
But hey, the past is the past… except for a new development on the grilled cheese frontier.
Welcome to the
Grilled Cheese and Wine Dinner
, five communal courses of tricked-out grilled cheesery paired ever so artfully with round after round of wine, now taking reservations for next Tuesday's seating at Three Sheets.
Your evening begins as you convene with your fellow cheese enthusiasts amid red velvet curtains and dark leather couches for a little amuse-bouche and a cocktail. Once adequately primed for the task at hand, you'll head off to one of the corner rooms and casually settle in for an endless barrage of crusty finery, from smoked gouda and chipotle cheddar to gruyère with prosciutto, all served (naturally) on Holeman & Finch bread.
And with any luck, you'll finally be able to solve the mystery of what goes better with aged white cheddar and fig jam… an '06 shiraz or a French chardonnay (a question that's haunted you since recess).
You'll also be happy to hear that your proud foray back into the world of childhood's simple pleasures will be rewarded with a secret dessert and a shot of Adult Chocolate Milk topped with whipped mascarpone cheese.
Beats a juice box.