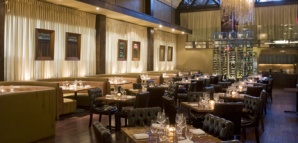 You might think you've heard this story before.

Huge Hollywood nightspot cloaked in mystery for months. Star chef finally braving Los Angeles. Celebrity backer who's not just lending her name—she's really involved.

Still, it gets you every time. The reservation lines are now open at Beso, the long-awaited restaurant, bar and VIP lounge finally and officially opening its doors to the public Wednesday.

Upon entering the cavernous piece of prime Hollywood real estate, you'll be tempted to make an entire night of it. Start with a guava-based concoction from the large marble "juice bar" (their term for...the bar that utilizes fresh juice). After that, you'll pass the open ceviche bar, and likely a TV starlet or three, on your way to one of the crocodile-covered booths—unless you're joining your party behind the curtain in the private space under the balcony. After sampling the Artichoke Guacamole and Paella with Lobster and Chorizo, you can continue cutting deals upstairs (behind another curtain) in the striking crimson VIP lounge, with its own bar, patio and exclusive entrance policy.

The evening (late night and late late-night) comes courtesy of celebrity chef Todd English and just-plain-celebrity Eva Longoria—perhaps the unlikeliest pairing since Tom Cruise and Katie Holmes.

But as you well know, life's most memorable pairings are often the most unexpected.