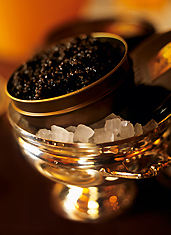 We've got to hand it to the Russians...
They know a thing or two about caviar.
So when we heard it through the Russian grapevine that there was a new caviar development in town, we had to investigate.
And all was apparent with one quick phone call...
Behold Tsar Nicoulai Caviar's
Caviar Butler Service
, a door-to-door service akin to a classed-up pizza delivery for the opulent delicacy and its fish-roe-related accompaniments, accepting orders for delivery now.
Sort of like the Alfred to your Bruce Wayne, this gentleman's gentleman will be there for you 24 hours a day, seven days a week—ready to fulfill your caviar needs at any given moment. We're envisioning a romantic interlude with plenty of champagne—or, more appropriately, vodka—by a fire, and maybe even a rooftop hot tub... but we digress.
Your black-and-white-clad messenger will arrive within three hours of your call to any destination of your choice: a hotel, the office, your home, hers, an '80s limousine parked in an alley... with an ice-filled box packed with enough caviar for four (best to be prepared). You'll also get crème fraîche, water crackers and mother of pearl spoons for backup.
But true connoisseurs say the best way to eat it is on the webbed part of your hand between your thumb and index finger.
You can discuss with your butler.