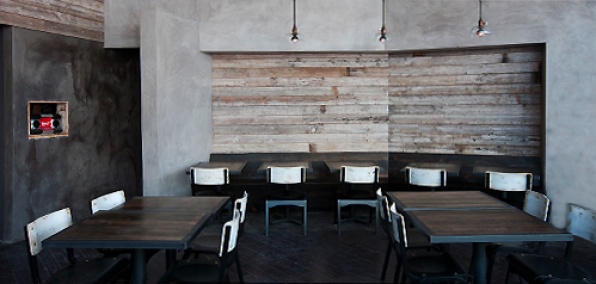 Flash forward.

To a night in the not-so-distant future. Maybe even this weekend.

You've been dancing. You've been wooing. You've been inventing a new specialty drink involving Dom Pérignon and Four Loko.

And now you're ready for some really delicious pork.

So you'll turn to the much-anticipated Vietnamese canteen called Red Medicine, your new late-night stop on Wilshire Boulevard, hoping to open this weekend.

In short, this feels like a Wild West saloon on a studio lot, with reclaimed Douglas fir planks on the walls, beat-up old chairs and the occasional lazing ceiling fan. But instead of vengeful pistoleros, it's the sort of place that will attract night owls on their way to after-parties in the hills.

And you'll get there eventually. But first: a round of #7s (pisco, pineapple and grapefruit peel), and a table littered with shareable plates of Pork Chaud-Froid (with crispy chicken skin, lychee and mango) and Nantucket Bay Scallops.

This place is brought to you by some guys behind the basil-friendly-yet-hip XIV and Umami Burger. Which means all your vegetables will come from the farmers' market, but they're not afraid to crank up some Black Sabbath until 2am to help you wash them down.

Nothing says Beverly Hills like Black Sabbath.