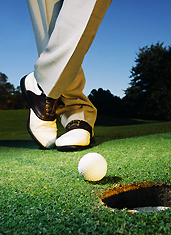 You've had some good teachers over the years.
You were homeschooled by the Dalai Lama. You studied capital markets under Warren Buffett. And you took a public speaking class from Antoine Dodson.
And now you're ready for a little help with your golf game. So, naturally, you'll turn to the former coach of Tiger Woods...
Introducing
Golf Lessons with Marius Filmalter
, a one-on-one golfing tutorial with the guy who perfected Tiger's putting stroke, now available.
First, a little background on your instructor: in addition to honing Tiger's short game for over two years (try not to read that the wrong way), Marius has studied over 54,000 putting strokes in his day and pinpointed the 10 characteristics of the PGA's top putters, so he can definitely turn your stroke into something a lot better than what it is right now (no offense if you're reading this, Ben Crenshaw).
Here's how it will go down: you'll call up the Old American Golf Club, where Marius is director of instruction, and set up a lesson. After exchanging a few Tiger stories, Marius will watch you putt and analyze every aspect of your stroke. Then, he'll offer a few tips to improve your technique and give you some drills to practice on your own.
Much cheaper than renting him for all future foursomes.