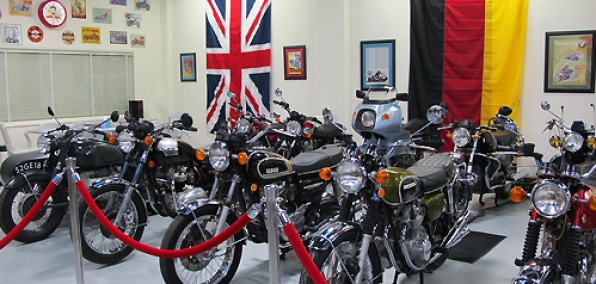 The open road. A Harley made of chrome and brawn. The smell of burning rubber.

And the sweet, lovely melody of "Uptown Girl."

The time has come.
 
Billy Joel's motorcycle garage/museum/hangout is now open on the weekends.
 
It's called 20th Century Cycles, it's in Oyster Bay, and you're invited to drop by, talk shop with Billy, gaze upon his bikes and maybe even make him an offer he can't refuse...

If you're a bit confused by what actually goes on in this space, know that it's not a shop, not a dealership and not a piano bar. There's no phone number, no website—just a humble little garage that's open to the public, where Billy hangs out on the weekends with his 56 prized bikes—from his candy-yellow Ducati and shiny chrome Triumph to the odd German police bike.

Billy has customized all the bikes to his own high-speed, high-flash specifications, and he retains a personal mechanic on site (the way you retain a personal sommelier at your wine vault). Should you be in need of his mechanic's services, Billy might be persuaded to lend him out.

But that will first require Billy getting to know you, preferably over cold beers on the 20th Century Cycles couch, listening to an antique jukebox playing "Just the Way You Are" as the two of you get deep into long, esoteric conversations about Zen and the art of motorcycle maintenance.
 
Try doing that with Springsteen.