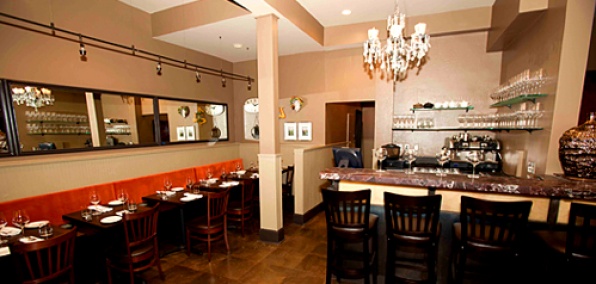 Cable cars.

The last permanently operated system in the world, and stiff competition for the Golden Gate Bridge as an iconic landmark.

Also, tourist trap.

Also, great cover for a new gem of a restaurant...

Introducing Seven Hills, a hideout of an Italian eatery nestled behind festively lit trees along the cable car tracks on Hyde, opening this Friday.

Named after the seven hills that San Francisco was built on—as well as the seven hills of Rome—this spot is more neighborhood bistro than old-world haunt, with paintings of San Francisco and Sicily, mirrored walls and homemade pastas and Barolos.

You might think that since this cozy, two-room eatery is located right on the Powell-Hyde line, you'd be tripping over tourists to get in, but you'll actually find that this stretch of Hyde miraculously remains a locals haven. So, if you do take the cable car over, try not to give anything away when you nonchalantly hop off at Pacific.

The short, four-seater marble bar in the heart of the restaurant makes for a good spot if it's open. Otherwise, take over one of the coral-backed leather banquettes in the side room. And since the chef worked at various Michelin-starred spots in Sicily and throughout Italy, you'll want to try his Dungeness Crab Cannelloni or the Braciole of Olive Oil Marinated Top Sirloin.

You know, like the Italians do.