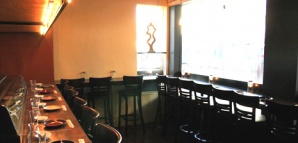 Extravagant meals have their place in your itinerary. But sometimes, you just want to grab a simple bite in a simple spot—one filled with bar stools (only) and where everybody knows your name.

That's when you head to Domo—the latest sliver of a sushi bar to hit Hayes Valley—opening its doors tomorrow.

Taking over the miniscule Tinhorn Press/Gallery space, this table-less joint packs in about 16 stools around its periphery with just enough room left over to squeeze in a sushi bar (kitchens can be so overrated). The clean little pine-planked space is the collaboration of high school buddies turned chefs Luke Sung (Isa) and Kuo Hwa (Blowfish) who envisioned something "really Japanese, really simple and really easy to remember."

Once you've acquired a bar stool, order up a bottle of Wakatake "Demon Slayer" Junmai Ginjo—known for appealing to both sake masters and sake virgins—and after a few pours, you'll be ready for some spicy tuna. Try the small crudos, which show up on spoons, and the Sexy Mama Roll (asparagus and tobiko roll topped with salmon, yuzu and cucumber), which, we promise, makes up for in taste what it lacks in ordering-nomenclature appeal.

We'll give thanks to that, or as they say in Japan, domo.