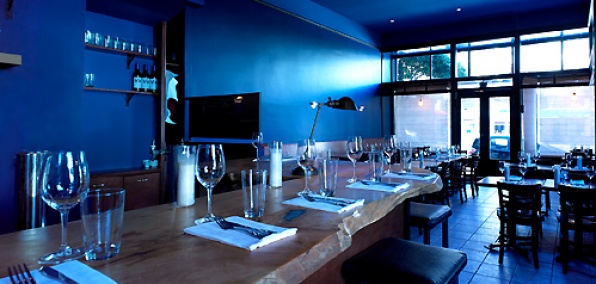 Naming a restaurant is a skill unto itself.

Straightforward works, but the good ones make a statement—preferably conjuring a strong, primal urge to hunt, forage and eat.

Introducing Beast and the Hare, a rustic, tavern-like outpost dishing out hearty plates of meaty fare that lives up to its hunt-or-be-hunted name, opening Wednesday in the Mission.

On a slightly off-the-radar corner on Guerrero, the Beast is a low-key, high-ceilinged spot with a long communal table and dark wood banquettes that's sort of like an English pub crossed with a huge Victorian flat, yet updated with flashy cobalt-blue walls.

The bar tucked in the back corner—crafted out of a fallen cypress tree from Tomales Bay—is a good starting point for pints of local IPA and a dozen of the most skillfully shucked oysters outside of Hog Island (chef/owner Ian Marks spent five years honing his skills there).

Since Ian also worked at Fatted Calf, you'll need a few orders of his homemade charcuterie or crispy pig ears too. Then finish up with delicacies from a list that reads like a menu version of Where the Wild Things Are (think: skewered goat hearts, scallops in rooster dashi and beef sugo).

Once they get settled, look for them to stay open until 1am. They're even going to have a late-night happy hour during the last few hours before closing.

Crispy pig ears are best at midnight.