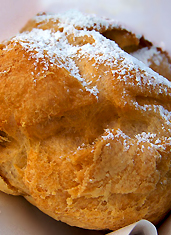 It's been a long, tough week.
The Heat lost a couple close ones. The snowbirds are back causing traffic jams. And your backyard technician informed you that your hot tub is going to need a new bikini-holder drawer.
You need a treat. Something small and decadent. Something foreign but familiar. Something mall-related and puffy...
Introducing the first Miami outpost of 
Beard Papa's
, a shop baking up made-to-order Japanese creampuffs, now open at the Aventura Mall.
First, let's jump right into the look and feel of these poppers. The shell: flaky, pie crust-like, slightly spongy and impermeable to sogginess. The middle: an ethereal vanilla custard filling, made lighter by a squirt of fresh whipped cream. Together: an Osaka-born ball of Asian custard heaven.
You'll find the store perfectly placed in the middle of the mall. Equidistant from sunglasses, leather dress shoes and
Saw 3D
. Step up to the counter, order one and watch as a yellow-aproned staffer grabs a baked-in-house pastry shell and injects it with filling, then sprinkles it with a little powdered sugar, kisses it and hands it to you (okay, she might not kiss it).
And while you'll want to try the original vanilla one first, you'll then want to proceed to other flavored puffery like chocolate, strawberry and coffee.
They've also got green tea creampuffs, in case you're on a health kick.