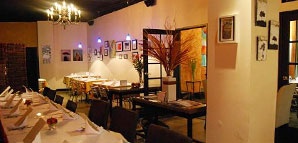 Not everything is about you.

Attain true enlightenment at the hidden new Buddhist-themed restaurant Shojin. (By true enlightenment, we mean true appreciation from your vegetarian date.)

The emphasis here is on organic, vegetarian ingredients prepared in the eponymous style that is said to have originated with Japanese Buddhists in the 13th century. (You've always said you had a special affinity with 13th-century Buddhists.)

Once you've ascended past the Japanese supermarkets and the ramen houses to the third level of Little Tokyo Square, your date will be impressed by your unearthing of this off-the-radar find. And she may even forgive all your recent culinary indiscretions when you order decidedly non-carnivorous inventions like the Kabocha Pumpkin Chowder and the Shiitake Mushroom Genmai Sushi Roll. (Besides, even she needs a break from the garden rolls at M Café de Chaya.)

As for the name—"Shojin" is derived from a word that translates, in surprisingly lengthy fashion, as "to drive out the evil thoughts and strive for Buddhism with one's whole heart."

You've always aimed high.