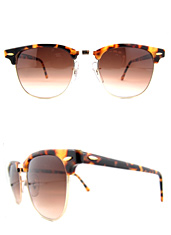 It's getting dark earlier.  
The sky is a vibrant shade of charcoal.  
Soon, the sun will be nothing more than a distant memory.  
And at that point, you'll do what comes naturally. Turn face and make a break for Bali.
Of course, you'll go nowhere south of the equator without the proper eyewear.
Introducing the
Vintage Frames Company
, a formerly appointment-only purveyor of rare and deadstock eyewear, now available online.  
Much like your genetically spliced Labrador Sabertooth Retriever (man's most fearsome best friend) or your belt made from scraps of the Magna Carta, many of the 100,000 frames sold here are the only ones left in existence. Which means you'll be the only one on the beach sporting the Draper-esque Dunhill 6232 sunglasses, drinking a mai tai and wearing a slim-cut business suit (anytime you jet ski, it's formal).
The whole shop is made up of mint-condition, never-before-worn '50s to '80s frames like Cazal 951s, old Ray-Bans and what could be described as a small mountain of Persols. Competing with you for the last pair of Alpina Genesis Projects left on earth: celebrities from their previously invite-only client list (Diddy, Downey Jr, the entire cast of
CSI Miami
).
So you'll need to move quickly to secure those Bolle 13E frames for your Oscar-baiting performance in the upcoming Jose Canseco biopic.
Nicholson once told you great acting was 85% sunglasses.