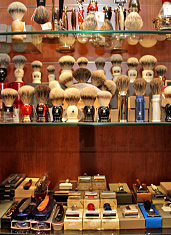 Three blades. Four blades. Five blades. Vibrating blades. Flashing lights.
Things have gotten a little out of control. Now, before anyone goes and does anything even crazier—rumor has it that the six-blade barrier is about to be broken—let's take a deep breath, slow down and take a big step back... about 135 years or so.
Welcome to
Merz Downtown
, opening today, an offshoot of the Chicago institution that's been keeping whiskers in check since before your granddad's granddad was old enough to shave, now with an entire section devoted to you. Or at least your face.
In the ground floor of another 1875 landmark, the Palmer House, you'll head directly to the back of the shop, where big wooden cabinets and marble counters hold everything you need: buffalo-horn handle safety razors. Badger-hair brushes. Tubes of imported Alpine lavender and English fern shaving creams. Soaps made in wooden casks by monks in Florentine monasteries. (We hear you're running low.)
When you really want to show your 5 o'clock shadow who's boss (in other words, on your lunch break), you'll pick up some Feather Razors, a brand of Japanese disposable straight razors born in the same town as the samurai sword. It's the current favorite of razor blade enthusiasts. Treat it with respect.
Also, anyone describing themselves as a razor blade enthusiast.