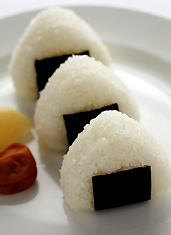 Lunch can be a tricky proposition.
On one hand, you need something hearty enough to get you to happy hour.
On the other, you don't want to end up in a food coma.
So we thought samurai might be able to solve this conundrum...
Introducing
Onigilly
, the first street food cart arming you with a triangular, sushi-like concoction of rice and meat according to ancient samurai tradition, open for lunch now at Steuart and Market.
Taking a page from the playbook of venerable Japanese warriors going on four centuries, Kan and Koji—the Japan-born cart owners who run Onigilly—are treating the streets of San Francisco like an ancient warpath, setting up in a strategic FiDi locale so you can get a quick bite of meat and rice to get you through the day.
The toppings are always changing, so they'll
tweet the day's menu
in advance and you'll get to choose from options like
Gyu Soboro
(seasoned ground beef),
Teriyaki Chicken
,
Spicy Shrimp
and
Miso Tuna
. And while you can order them à la carte, you'll probably want the
Samurai Box
, which comes with your choice of four onigilly, edamame and a daikon pickle—sort of like an Eastern take on our sandwich and bag of chips.
After they get going, they'll add more options like
Ginger Pork
,
Korean BBQ
and
Sausage
. And while you can find them at Off the Grid on Fridays, start looking for them at various happy hours around the city.
Which brings us to... sake.