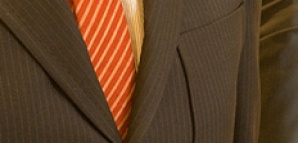 A good rule of thumb is that if something new feels like it's been there forever—a building, a haircut, your girlfriend—then it (or she) is probably a keeper.

Take Steven Alan's latest attempt at smartly casualizing the world of men's finery—unfussy, subtle, expertly crafted suits—available now at his Tribeca Annex.

We've long been a fan of his shirts—perfectly imperfect, well-fitted, subtly detailed, unafraid of color and quintessentially American. That's why we were curious and somewhat excited to hear that the Wizard of Wovens was expanding his line to include suiting. Upon inspection, the two blazer/pant combos in stores now are two of the most instantly useful items we've seen hit the shelves this year. The pick stitch cotton khaki suit will serve you dutifully for all your summer weddings and outdoor cocktail events on the horizon. And the washed wool charcoal suit is perfect for the last vestiges of winter, but light/versatile enough to wear year round.

Alan assures us that he is just getting warmed up with suiting—more colors and styles are on the horizon, including a tuxedo. In our eyes, it's a welcome step from an unassuming maverick.

And further proof of a good rule of thumb.