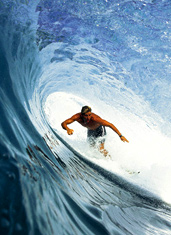 It's nasty outside.
The wind. The rain. The light jackets and temps in the mid-60s.
It's just unbearable. You need a break. We're thinking surfing... with man-made waves.
Here to make that possible without leaving Texas: the
FlowRider
machine at the Adrenalina store in Plano, now making waves.
First of all, we know: Plano isn't exactly action city. The last time you were there was for a tense business takeover meeting at the Olive Garden. Followed by celebratory sushi at Benihana. But last time we checked, it was a lot closer than, say, Maui. (And while we're at it, we also know: this thing has been around for a little while. But that just means it's had more time to get its waves up to
Blue Crush
levels. Which you demand.)
So the next time you're feeling like channeling your inner Johnny Utah, you'll hop on the tollway and arrive at this extreme sports store that's like a skate park with dressing rooms. Follow the girls in bikinis to the back left corner, and that's where you'll see it in all its aquatic magnificence: a huge surf machine housed in a glass case, firing out thin sheets of water for you to surf on in a perpetual unbroken wave.
The wave never ends, brah.