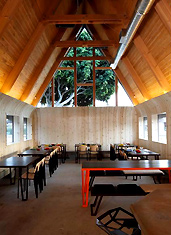 The letter A.
One of the top 26 letters, easily. Served you well over the years, leading off words like
audacity
,
arousal
and, of course,
a
.
And now it's the shape of a long-awaited new restaurant. Welcome to
A-Frame
, a pointy-shaped gluttonhouse where utensils are frowned upon, opening this Thursday in Culver City with food from Roy "Kogi" Choi.
In this tall A-frame cabin (yes, it used to be an IHOP), everything is meant to be spread out and shared like you're on a sloppy backyard picnic where somebody forgot the forks. (It's the latest collaboration between Choi and David Reiss, who owns the Alibi Room―aka the only place you can get Kogi's short rib tacos without chasing down a truck.)
You'll want to grab a table at the front under the peak, where the view's best of your fellow picnickers, and soon you'll be eating
Hawaiian-Style Kettle Corn
,
Cracklin' Beer Can Chicken
and
Carne Asada Tortas
with your hands. Then comes dessert: a
Thick-Ass Ice Cream Sandwich
or
Fried Apple Pie with Cheddar Ice Cream
.
And you'll need a frosted mug of beer to wash all this down, maybe a
Sublimely Self-Righteous Ale or a Ten Fidy Russian Imperial Stout―or go for the Anchorman, which adds ginger, agave nectar and lemon to a healthy pour of scotch.
Stay classy, A-Frame...