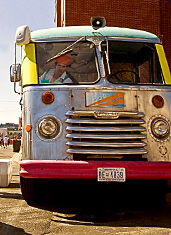 Those aren't just the winds of change you feel blowing.
Those are actual winds. Cold ones, too. The kind that make you want to steel yourself with steaming plates of hearty, spicy stews that have simmered for hours.
There's a catch: you've got to eat it with your hands.
Introducing the
Fojol Bros. of Benethiopia
food truck, officially launching tomorrow as DC's first Ethiopian food truck.
Of course, you're already familiar with the Fojol Bros.'s work. You've gotten your share of late-night curries from the 1960s silver van that the two mustachioed, turban-wearing guys drive around. So you'll be happy to know that
finding the new truck
won't be tough: apart from a green and yellow nod to the Ethiopian flag, it looks a lot like the original (in fact, it will often be
following
the original).
What will be different: a sink sticking out of the truck next to the ordering window. No, this doesn't mean they know where you've been. It just means that they'll encourage you to wash up before they hand you plates of the classic beef berbere, spicy lentils and collard greens in onion and tomato. Because you'll also get squares of spongy injera bread, which Ethiopians use in lieu of silverware (it might be messy, but hey, you're eating over the sidewalk).
In coming weeks, they also plan to start a catering operation, complete with the Ethiopian take on tartare—raw beef warmed in clarified butter.
So much better than opaque butter.