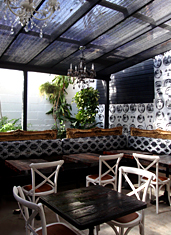 This weekend, you're going to see a lot of costumes. You'll probably meet a sexy French maid or two.
Which makes you realize: that's the kind of costume that should really be worn year-round.
Introducing
Madame Chou Chou
, a curious little French bistro that happens to be staffed by women dressed in French maid uniforms, scheduled to soft-open tomorrow on Main Street in Santa Monica.
Think of this as the bistro that might've been set up in front of the Moulin Rouge, where you'll fuel up for the night ahead (or recover from the night that just went down). In the morning, grab a table by the front window, across from the pastry counter, for fresh croissants and coffee. Everything around you is black-and-white, and your paper will be illuminated by chandeliers and sunlight. Take your time. There's no rush.
Then later on, when you're with a date and you want to get far away from the Main Street crowds, you'll squire away to the tiny, discreet walled-in patio out back, where your bottle of French wine will be followed by plates of monkfish, duck ravioli and lamb osso bucco.
Go ahead, wear your sexy butler costume.