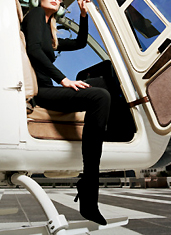 When it comes to dating, you know just the right place for just the right situation.
The post-dinner martini lounge. The second-date tapas spot. The breakup BBQ joint.
But sometimes you need a wildcard move, a crazy activity to pull out for those really special cases. (We're specifically thinking of your new friend Elena, the Cartagena model-turned-NASA astronaut.)
And by wildcard, we mean helipad…
Presenting the
Sunset Tour from Sky Helicopters
, a helicopter ride through the orange and pink skies of our city, now taking reservations.
Here's how you'll work this. Step one: Rent
Black Hawk Down
. Step two: re-watch the helicopter scene from
The Matrix
. Step three: book a time with Sky Helicopters, grab your chopper-worthy copilot and get to the DFW heliport in Garland around 6pm. After a safety briefing, you'll both run out onto the helipad, hop into your seats in the back of the helicopter and toss on your headsets (just remember: the pilot can hear everything you say).
As the sun dips below the horizon, you'll take off and weave your way through the buildings of the Dallas skyline, then zip around Cowboys Stadium, cruise by the Cotton Bowl, fly over Southfork Ranch and skim by sailboats on White Rock Lake. And all the while, you'll be holding a cup filled with wine, as Sky Helicopters is BYO as long as you use plastic cups.
Plastic is the ultimate glassware choice at 500 feet.