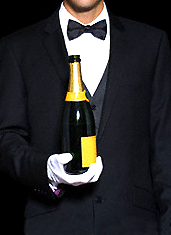 It happens every two years: your friends, colleagues and fellow partisans volunteer your place for their election-watch party. 
Maybe it's your array of flat-screens. Maybe it's the hologram of Anderson Cooper in your living room. Perhaps it's your bathroom modeled after a voting booth.
Trouble is, you're a bit short on celebratory champagne and sorrow-drowning scotch, and you'll be too busy crunching poll numbers over the next week to replenish.
Enter
DCWineGuy.com
, now delivering beer, wine and spirits throughout DC to fuel your next televised competition, whether or not it involves Chris Matthews's color commentary.
You might have worked with these guys before: they operate out of Cairo Wine & Liquors in Dupont. But now, you'll peruse their wares—from Bordeaux and mezcal to beer and white whiskey—online. Then after you check out, you'll get an email giving you a delivery window in the next three days. If the situation is dire—say a last-minute wine tasting with Olivia Wilde—you can get same-day service on what's in stock.
But you're not just going to hand your guests a full bottle of hooch (well, not everyone, anyway...), so you can also have the delivery man drop off some mixers, ice and extra glasses.
Just make sure no one throws those during the Missouri returns.