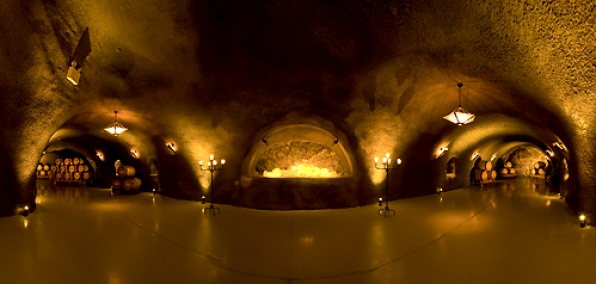 Gold. Oil. Emeralds. Pirates' booty.

All good reasons to look below the surface...

And now you can add piles of meat and endless wine to that list.

Welcome to Pine Ridge's Cabernet & Carnivores Cave Dinner, a subterranean feast of steak, roasted meats and bottomless wine set in a wine cave reserved for aging barrels of cabernet, now taking reservations for this Saturday.

If Vikings had gotten trapped in caves like in The Goonies, this is the opulent, over-the-top feast that would result.

It all starts in the gardens with wine and bites, but soon enough you'll descend to the caves spanning almost a mile in length, where 4,500 barrels of cabernet reside—which means you'll never go thirsty if you get lost.

Before you dive into the round of Kobe beef, whole roasted pig, leg of lamb and sausages, they'll perform the "parade of meats" where the carving knives are ceremoniously sharpened and bagpipers and drummers play. Then the meats are served churrascaria-style—meaning you have a little card you hold up when you're ready for them to come over and carve more—into the night, until you've had your fill.

Needless to say, it's all paired with Napa cabernets from Pine Ridge's cellar and library.

And by library we mean big wine stash.