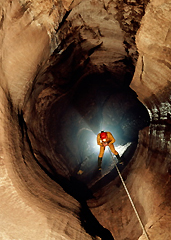 We won't be long.
We know you want to get back to Rangers-postseason tracking.
But we just wanted to tell you that we know of a dark place where you can rappel cave walls and wear helmets with flashlights on them, miner-style (without the mining).
Presenting the
Hidden Passages at Natural Bridge Caverns
, a three-hour rappelling, climbing and crawling course through one mile of caves outside San Antonio, now taking weekend reservations.
To start, you'll get yourself to these San Antone-adjacent caverns and take a quick course in spelunking safety. Then, you'll strap on your harness and flashlight helmet, descend some 100 feet using a single rope and stop when you reach an area shaped like a box. Here, the darkness, untraceable dripping noises and echoes will make you feel like a potential victim in
Aliens
. Just ignore that feeling.
Next, you'll follow your cave-savvy guide down 230 feet by crawling, climbing and casually walking through the dark and wet caves. Then you'll reach a well shaft that's 50 inches in diameter, where you'll lower yourself another 150 feet (so maybe don't invite your friend Hurley from
Lost
).
Finally, you'll come to a long and spiky cave design called a straw formation, which just happens to be the longest one in North America.
Not that cave length is everything...