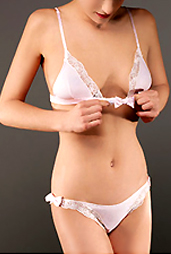 It was an upset to say the least.
That this year—the year you invented the MP3-playing steak knife—they would give a Nobel Prize to, well, anyone else. That's a tough pill to swallow.
And on top of that, next year's field is looking a little more crowded too. Thanks to a breakthrough in the lingerie arts...
Say hello to
Lingerie Dement
, a new line of lingerie that's held together ever so slightly by magnets, available online now.
Like any good line of unmentionables, the collection is of French descent. The website is entirely
en français
, but the pictures do a good job of getting the point across. You'll go through the site and scout out a few choice bustiers, bras and nuisettes, all frilly, delicate and barely there. And all kept precariously linked shut by tiny, almost invisible magnets.
When left undisturbed, they'll hold up well enough to prevent any office wardrobe malfunctions. But when that critical moment strikes and you're dealing with a time-sensitive situation—asteroids hurtling toward the earth, the seat belt sign was just illuminated—let's just say that every second counts...
Our condolences to the hook and clasp.