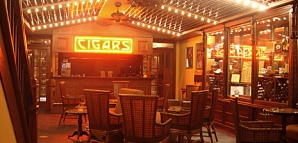 Thanks to hizzoner's best efforts, your cigar-loving side has been facing a serious venue problem lately. Luckily there are still a few places where stogies are freely set alight...

And someone just opened a decked-out hideaway for that very purpose.

The now soft-opened Nat Sherman's Johnson Club Room is the lounge in question. Opening downstairs from the legendary tobacconist, the Club Room is loaded with the trifecta of a full bar, a cavernous walk-in humidor and an array of delicious food options (with a fully stocked trophy case to boot—apparently the Sherman folks have kept fit). And the smokes themselves are the best you'll find in the city, including house blends and boxes shipped in weekly from Caribbean artisans (you know, the non-embargoed kind).

The bar serves up anything from espresso to scotch, but if you need something more substantial, they've got the best finger food in New York on hand, including pastrami and salmon plates from Russ & Daughters, pastries from Balthazar and a sampling of knishes courtesy of Yonah Schimmels.

Right now, you'll have to pay by the visit, but if you spring for a locker in the walk-in humidor, you'll get a spot in the club room year round, along with storage for up to 300 of your favorite stogies.

And if you come up a little short on smoking material...well, we're sure you could find a few more somewhere.