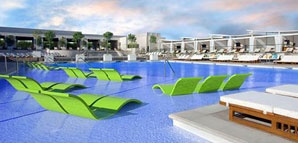 As pools go, Vegas already boasts its share of the finest. Of course, Wet Republic has yet to hit the landscape.

And the next big thing in pools also happens to be the next big thing in clubs, now that nightlife gurus Angel Music Group have commandeered a dormant patch of land at the MGM and set up shop.

While the masses roast at Rehab, consider cooling your heels in one of Wet Republic's six teakwood super cabanas (or one of the 10 canvas VIP cabanas) overlooking three VIP hot tubs which appear—thanks to some elaborate water tricks—to spill over into two salt-water pools before cascading into three more hot tubs (yes, it sounds like pure madness, and it is.) Or sun and surf poolside on chaises flanked by stocked mini-fridges and masseuses.

With a feel that's South Beach-meets-the-Mediterranean, Wet Republic is a vast expanse of creamy alabaster stone dotted with Japanese blueberry trees (okay, South-Beach-meets-Mediterranean-meets-Japan) that offer you a place to take some shade by the sleek 90-foot verde marble bar.

When all the water and sun has taken its toll, you can leave via Vegas' first valet service that pulls up poolside, no longer necessitating that pesky cross-casino hike.

Unless of course you're feeling lucky...