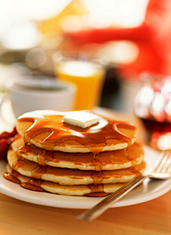 Maybe watching football on Sundays isn't such a great idea.
Maybe you need to start spending more of your weekends on a sailboat, with a mimosa in one hand and a taco in the other.
And maybe that sailboat should have a driving range...
Presenting
Brunch Cruises at Big D Cats
, a new brunch option that involves sailing, BYO sipping and pancake eating, now taking reservations for this Sunday on Lake Lewisville.
Think of it as your normal Sunday brunch party, only transported to the largest catamaran sailboat in Texas (so you'll still want to wear a life jacket).
Step one: put on your boat shoes. Step two: put "I'm on a Boat" on repeat. Step three: reserve one of 60 slots for this Sunday, bring your own booze and head to Pier 121 on Lake Lewisville. That's where you'll come aboard a 70-foot catamaran equipped with a bar, a pancake and breakfast taco station, a dance floor and a lounging area with beanbag chairs. (We hear this is
exactly
how Spielberg relaxed on the set of
Jaws
.)
And if you ask your captain nicely, he'll even bring along his mini driving range, where you can knock a few balls off the back of the boat and onto a floating green some 100 yards away.
Probably don't need to bring your caddy for this one.