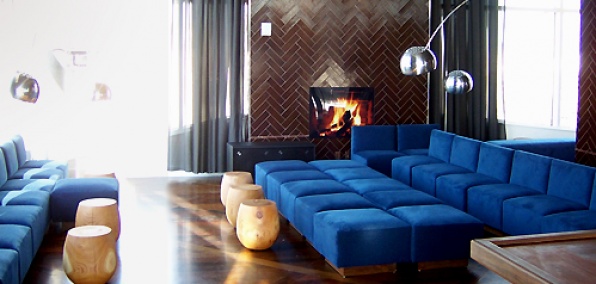 Rooftop season treated you well this summer.
You consumed a record 672 Dark and Stormys. George Hamilton sent you a cease and desist letter regarding your tan. And you learned that it's indeed possible to get an excellent night's sleep on a
rooftop pink waterbed
.
So it's time to settle down for the fall. You know, get a little grounded.
Actually, no.
Not at all.
That was a test...
Opening Monday in SoHo is
Jimmy
, atop the James Hotel, a cozy spot out to prove that the fall is no reason to descend into a windowless bunker and hibernate just yet.
Tucked into the southwestern corner of SoHo, 20 stories above Grand Street, enclosed in a warm cocoon of glass walls, this is where you will go to conduct your rooftop board meetings this autumn. Which is to say you'll settle in on a cush light blue sofa in front of the life-size photograph of a fireplace, order up a round of Manhattans and let the sweeping views of the good parts of New York into your life for one brief evening.
The lion's share of the space feels like a luxe atrium, wide open with no dim corners, no spots for keeping a low profile, no nooks for shady transactions or stolen moments. Which would be a problem, except...
The patio. It's here where you'll sequester interested parties for a private drink, escape conversations about pets and maybe take an impromptu dip in the micro-size swimming pool, which is technically restricted to hotel guests.
Again, technically.