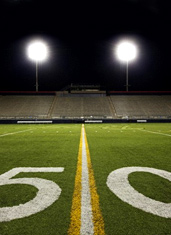 Saturday's almost here. Game day.
Tickets on the 50. A smoker full of tailgating accoutrements. A foam finger flask.
You just need one more thing: the keys to your rival's house.
Allow us to explain...
Introducing
Gameday Housing
, a website that lets you rent homes for when you're attending the biggest sporting events in the country, available online now.
Basically, it's like booking a hotel, only the hotel is a private home somewhere near the game. So say your alma mater's got a big game coming up against its historic rival. Rather than taking your chances with a sketchy or booked-up hotel, you'll go here. You'll pick from homes with plenty of flat-screens, pool tables and ping-pong tables (in case the rivalry needs to be settled over table tennis), and of course enough living room space for an impromptu toga party.  
After you reserve the place online, you'll hand in your security deposit, get the key code for the front door and double-check that you've packed the essentials (side of beef for tailgating). At that point, you'll have full run of the joint for the next couple of days. And if college football isn't your game of choice, the site plans to expand to other sports in the near future.
You've already got your eye on that split ranch for the National Fencing Finals.