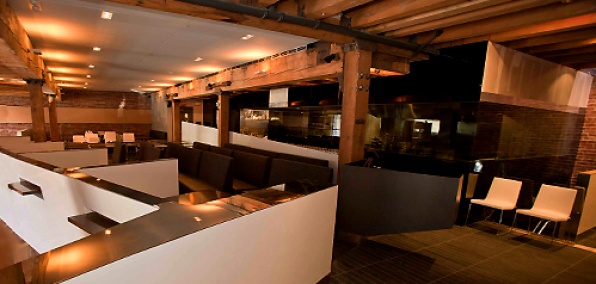 As you've often said: nothing wows a date like a meatpacking plant.

Okay, you've never said that. But you might now—because there's a new stunner of a restaurant that's tucked into a 100-year-old meatpacking plant and smokehouse...

Introducing Twenty Five Lusk, a fire-fueled, bi-level den of food and drink primed for your next date, opening this Saturday in SoMa.

Lusk has all of the requisite elements for a great date: good lighting, potent drinks... fire. You'll find the place where the best date spots are typically found: at the end of an otherwise nondescript alley.

Once inside, you'll climb some stairs to the top level. There, you'll want to indulge in a hearty dinner of braised short ribs—either at one of the booths overlooking the lounge or at the quiet six-seat bar tucked away opposite the dining room.

After you're fully sated, you and your date can hit the après-ski-style underground lounge with sofas and futuristic hanging fireplaces, which use some kind of eco-gel that looks like flames but doesn't get hot. (We've seen the future: lots of eco-gel.) But we suggest heading further inside to the series of hidden nooks—which once served as fire pits for the smokehouse—nestled behind the cocktail bar.

Good things always happen in hidden nooks.