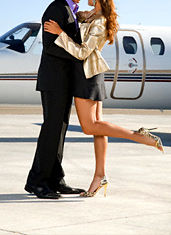 Maybe not today, maybe not tomorrow, but soon, you will find yourself in an airport.
And not that your experiences there are ever anything other than unicorn's breath and rainbows, but there is a
slight
chance that maybe, just maybe, something will be less than perfect—a bag misplaced, a pillow unfluffed, a flight delayed by an attendant jumping off his plane.
And at that moment, you will seek solace. Possibly in a cocktail den. That you only knew about thanks to a new friend you keep in your pocket...
That friend:
PointInside
, an iPhone and Android app that has mapped out every major airport and mall in the country, available for download now.
Think of this as a real-time "You Are Here" map for your next layover—a guide to finding a place to score a bone-in rib eye, some single-malt whiskey and an untaxed cigar, all before boarding that flight to Belize.
Once you download the app, you'll get constantly updated satellite and cell tower data for 70 airports around the country—including the location of every restaurant, duty-free shop and Admirals Club. (Try not to let this information fall into the wrong hands.)
And in case your luggage gets lost somewhere along the way, the app also has maps for over 600 malls, allowing you to make a surgical strike through The Grove to recover the contents of your carry-on.
Good thing you always pack a lot of Cinnabon.