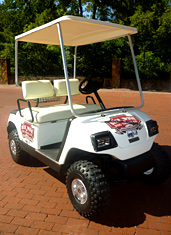 Congratulations: you now have a golf cart guy.
And this golf cart guy is prepared to bring you all the essentials of life. Namely: beer, wine and dog biscuits.
The name of this outlandish venture:
Beer, Wine and Dog Treats
, now delivering in Uptown.
Let's be clear: this isn't just some random golf cart handing out a few stray Natty Lights on the DL. This is a street-legal vehicle with a liquor license and a top speed of 25 mph, ready to offer you some 60 types of beer, 16 wines and gourmet dog treats.
So let's say you're sitting at home watching the Rangers in Game 5 with some buddies and your dog, Daryl Johnston. And just before the national anthem, you realize your fridge lacks the appropriate number of emergency rally beers.
You'll call up your new cart guy, Bryan, and after a quick
survey of the menu
, order a case of Rahr Ugly Pug beer and a bag of
Peanut Butter Pal
dog treats. Within an hour, you'll have a golf cart that takes cash or credit cards zipping up to your house. He'll even deliver a keg if you give him two days' heads-up.
And because pumping the keg takes energy, he can also deliver food from the Londoner within an hour.
We see
Cheesy Hampton Fries
in your future...