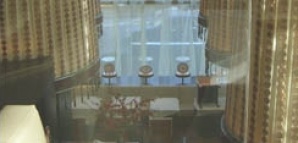 Trump, the master of the dollar, knows a thing or two about getting a deal. And leave it to him to bring us one. Tomorrow night, Megu's new midtown outpost opens, tucked away in the Trump World Tower.

The Trump Megu is actually smaller and less ostentatious than its downtown counterpart (yes, truly a first for The Donald). The new spot still makes for dramatic dining—snag a downstairs seat, which offers a better view of the massive two-story columns floating through the bi-level space. But everything else has been toned down—cavernous space gets traded for intimate seating, and the infamous ice Buddha sculpture has been decapitated to an ice Buddha head on the sushi bar.

As for the menu, be prepared to capitalize on one of the best culinary arbitrage opportunities in the city.

A little intelligence has uncovered that you can get the same Megu signature indulgent, seven-course "Umami" omakase that's $120 at the Tribeca location for just $70 at the new Trump locale. According to our banker, that's a 40 percent savings.

Caveat: we're not sure how long this price will last, although we're sure we'll eat well until we run them dry of Tajima Kobe Beef.

We're certain Trump would approve of milking this deal.