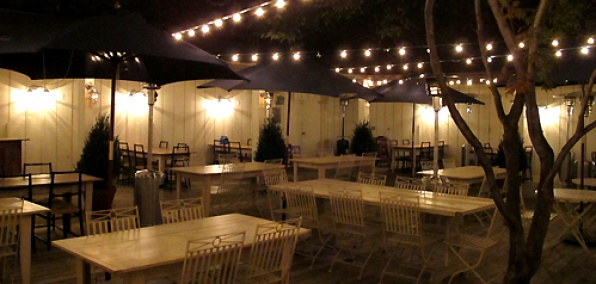 Today, we've got big news: it'll be 70 and sunny all next week.

But that's not the big news. This is: there's a new beer garden where you can enjoy it, every single night of the week.

Presenting Blue Ridge's Octoberfest, a week of drinking beer outdoors, beginning Tuesday in a giant new outdoor beer garden.

By now, you may have heard about this enviable backyard spot, which Blue Ridge opened under the radar a few weeks ago. You'll enter through a new alley passageway, festooned with string lights, into something that looks like a New England barn—but with more tap beer.

Beginning on Tuesday, as they formally christen the spot, there's a little something extra in it for you: free beer, courtesy of regularly scheduled gratis tastings. So you'll want to show up early to grab some prime real estate at one of the farmhouse tables or in one of the rustic rocking chairs.

Beer safely in hand, you'll begin thinking about other weighty matters—like the grill that's turning out roasted Rappahannock oysters, Baltimore brats and, on Friday, unlimited mussels and fries to soak up the night's brew.

If it gets cold, wear some fleece over your lederhosen.