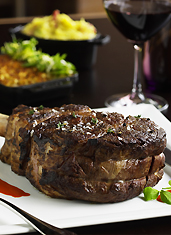 When one door closes, another opens.
And when steak is inside that other door, you're not complaining...
Welcome
Bourbon Steak
, Michael Mina's replacement for his now-closed namesake eatery, and a decadent, cognac-hued lair of luxurious steaks and potent cocktails, opening Thursday in Union Square for your next power dinner.
You'll be happy to know this place is all about indulgence: plush Pullman-style booths, big, steel-blue columns and a menu of
Butter Poached Steaks,
Lobster Pot Pie
and
Black Truffle Mac-n-Cheese
—all integral components for fueling whatever high-stakes negotiations are at hand.
And despite the place actually being named after a stockyard and not booze, you should feel free to start your evening at the bar with a sidecar. Once you abscond to a booth (ask for one overlooking Union Square), you can move on to the steaks. But before you dive right in, you'll want to warm up with starters like the
Potato Skins "Poutine"
topped with short ribs or
Lobster Corndogs
.
As for the steaks, the 28-ounce porterhouse will probably catch your eye, but we recommend trying the butter-poached, broiled
American Kobe Cap
, supplemented with a bone marrow custard or the lobster fondue.
Which might require a few more bourbons.