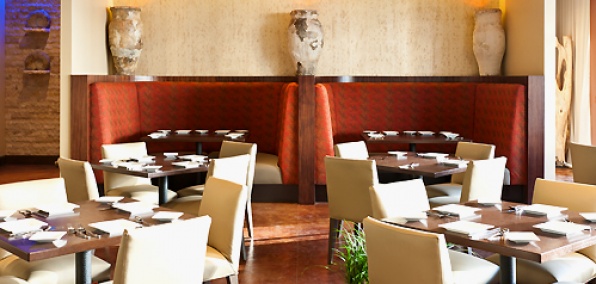 Dodging valets, hurdling velvet ropes, participating in deal-making marathons late into the night...
Dinner on La Cienega is practically an Olympic sport.
So for your next power meal, we'd like to present a modern shrine to Ancient Greece. Welcome to
Xandros
, officially opening Saturday on Restaurant Row.
Past the blazing torches outside, you'll step into the ouzo bar and start things off with the traditional Greek aperitif, served neat, or a round of
Melimartis
(vodka, Greek honey and a lemon twist) under an ancient-y stone wall with backlit silhouettes.
Then, you're ready for a table by the windows—the whole front wall of glass opens onto the torch-lit patio, so it all becomes one big indoor-outdoor sprawl of
Mediterranean classics, LA-style
. The beef comes from the rolling pastures of Paso Robles, the zucchini in your
Moussaka
is organic, and, for a bit of extra Beverly Hills flair, a cheese dish called
Saganaki
is flambéed with brandy at your table. (Brandy and an open flame: always a good negotiating strategy.)
Oh, and there's the small matter of your waitress. From time to time, as wine flows and souvlaki is de-skewered, you can expect her to put down her tray to indulge in a bit of traditional Greek dancing between courses. And be warned: she might think you look like the ideal partner.
Wouldn't be the first time...